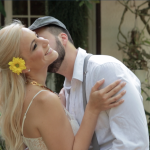 At Modern I Studios Inc we have a motto, "Relive The Moment" because we believe that in order for our clients to truly enjoy their wedding day it has to feel as if they are reliving moment just as they experienced on their special day. From every tear drop to the emotional meaningful toasts, how you'll remember your special day should reflect the moment.
We provide the best in Miami wedding cinematography. Our outstanding team of videographers and editors are always working on their skills and post production knowledge, bringing you the best video quality. Our wedding video productions scale from elaborate lavish events to the most simple, our style of filming can fit in anyones preferences.
We blend the emotions and sounds of your wedding day with a cinematic approach. Blending beautiful filmed artistic angles with a journalistic documentation of your wedding day.  This allows for something incredible to happen. It allows you to see everything as it happen in a sequential flow that is easy for our viewers to see. Our goal is to allow you and your spouse to truly relive the moment as it happen.
Contact Us Now For Your Quote